The Coney Island Mermaid Parade takes place every year in Coney Island, New York in mid-to-late June. The Parade is a lively and welcoming ocean-themed event open to everyone.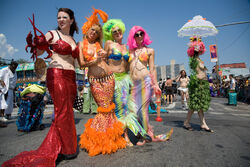 The tradition of the Coney Island Mermaid Parade began in 1983, when the first event of this kind was conceptualized and organized by Dick Zigun, who is sometimes dubbed the "Mayor of Coney Island", and who was the founder of the non-profit arts group Coney Island USA.
The Mermaid Parade is held in celebration of the beginning of the summer season, and so it traditionally takes place on the Saturday closest to the calendar start of summer, regardless of the weather. In 2008 the parade was on Saturday June 21st. In 2009 the parade was held on Saturday June 20th, commencing at 2 pm. In 2010 the parade was held on Saturday June 19th. 2011 was Saturday, June 18th, 2-5 pm.
The parade pays homage to the Coney Island Mardi Gras parades of the early 20th century. During this era, Coney Island was the primary amusement park destination for those in the New York area. Like the much larger annual Village Halloween Parade, the Mermaid Parade embodies the spirit and artistry of Mardi Gras.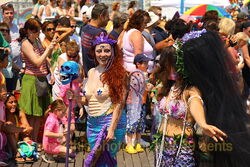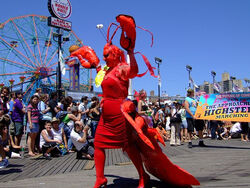 The event sometimes attracts a couple of thousand actual participants, along with hundreds of thousands of spectators, some of whom have traveled to Coney Island's beach primarily to escape the heat which often marks the beginning of summer.
The Mermaid parade is well-known for extraordinary marine costumes, and for the occasional partial nudity. (This is not as surprising as it may sound, because it is legal in New York State for women to be topless in public, except as part of a business venture.) The parade is however very much a family event; it is quite common for at least one little girl's birthday party to march as part of the parade. There are sections in the parade for vehicles of all kinds, for floats, for groups, and for individuals. Mermaids and sea creatures of every shape and size are represented, and the audience is festive and appreciative.
Each year the Mermaid Parade features a merman and mermaid King and Queen. In 2005 the King was David Johansen (Buster Poindexter) and the Queen was Karmen Guy (Mad Juana). In other years, David Byrne, Queen Latifah, Adam Savage, Harvey Keitel, and Moby have filled the royal seats. In the 2010 parade, the King was Lou Reed and the Queen Laurie Anderson.
The organizers of the parade claim to encourage bribery, so that participants have a better chance to win the various costume contests, which are also part of the day's entertainment.